What would it be like to go onto the reality television show known as "Deal or No Deal"? Well you no longer have to wonder what it would be like as Deal or No Deal has been available in the form of a video slot for years now. Recently a gifted player was able to conquer the progressive jackpot in this video slot where he was able to win $653,183. Winning the 20p Progressive means that this player wasn't able to win the largest progressive available in this slot but none the less this is a life changing win.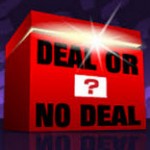 All we know as of right now is that this jackpot was won at JackpotJoy, one of the most popular casinos available in the United Kingdom. We also know that the winning player isn't located in the U.K. but is located across sea's in Northern America, he was just wagering with Euro's. This means that this win will be nearly twice the amount than what it would of been if this player lived in the U.K. He will now be a millionaire off this progressive win. Unfortunately this player has opted out from revealing his name or making a statement regarding his thoughts after he won.
Those wishing to take their hand at the 10p or 5p progressive on Deal or No Deal have the opportunity to do so by acquiring a player account with JackpotJoy. They offer an array of slots so you can be ensured that your gambling experience will never become repetitive or boring.