Sky Vegas is yet again getting another exclusive slot, it's no wonder as to why this casino has been able to reach a level of popularity that only hundreds of other casinos wish for. This new slot is called "Star Crystals" and it's been developed by the minds at Genesis Gaming.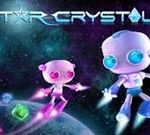 Star Crystal's takes heavily from science fiction in its theme. The reels & background interact with one another simultaneously to make an unforgettable experience. The icons on the reels just seem to float in space. Aliens, various crystals, nebulas and game feature symbols all roam around the cold depths of space. Along with its visually stunning theme there is also free spins, multipliers, wilds, scatters and a pick em' styled bonus round. This brand new Genesis Gaming slot is available for desktop and mobile use only at Sky Vegas.
Genesis Gaming noted, "We're honoured to work alongside Sky Vegas. It's a thrill to be able to work with one of the best online casinos in the industry. We hope that their mass amount of punters enjoy the gambling experience we've created for them. Sky Crystals is available to play today!"
Those who want to gain more insight on what this slot has to offer before signing up with this online casino can do so by going to the Genesis Gaming YouTube channel. There a video preview of this new game awaits whomever wants to view it. Afterwards signing up with Sky Vegas only takes two minutes & than a world of exciting gambling awaits.